I want to understand a bit more about how we can accomplish important things as a people. So often, in order to solve problems within the web design industry we reccomend a generous subscription of creative thinking… So what images come to your head when you begin to think of "Creative Thinking" and are they universally positive?
Creative Thinking
Any man who reads too much and uses his own brain too little falls into lazy habits of thinking.
Albert Einstein
To think creativly can mean a great deal to a great number of people. However, I would like to highlight the ways in which I believe creative thinking can be beneficial to your workflow, and the ways that you may actually overdo it and out think yourself.
Creative thinking in our industry is sitting down, or maybe even going on a quick walk while considering how to do what we do in a new and more inventive manner, that may as a result cause our peers to take notice.
Here is an example. Recently, I had a short lived desire to engage my users in a more tactile way. So I took to Photoshop and moshed up a few common web elements that I thought were creative.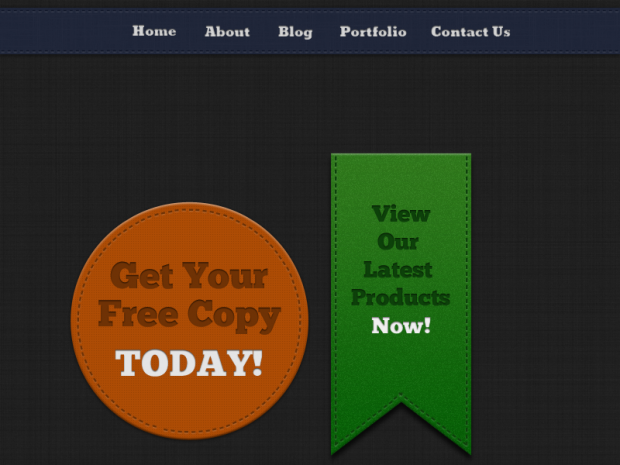 When it all goes wrong
Creative thinking is wonderful. However, at times you may find that it can get in the way.
Creative thinking goes wrong when you find yourself solving problems that do not pertain to the task at hand.
For Instance…
Lets say that I am working on a VIDEO ONLY BLOG. My client is handing me real world money, in exchange it is my job to create a Video Blog that will serve their users great content.
This is a case wherein it may become a little bit ridiculous to spend mountains of time figuring out how the blog authors could drop a nice short-code into their posts to display a large amount of wordy content. (remember this is a video only blog)
My point is, when you are thinking creatively, and this thinking will benefit your clients, then you are on the right track! Please, make sure not to over think your situation or project!
Creative Problem Solving
Get to the good part…
If you are a web designer within earshot of this post… Call me immediately because you can hear through Ethernet wires!
Moreover, as a web designer or developer it is your job to work for your clients. Therefore practicing effective problem solving is a must. At some point in your illustrious career, you may find yourself up against a creative or functional wall. I know I did!I was a web designer that could make a few pretty pixels here and there, code them into some pretty nifty HTML, CSS and jQueryand that was pretty much where I stopped. However, my clients started to ask for the craziest things. They wanted the ability to edit any content on their site at any time, add things like blog posts and pictures, even manage their menu (if they owned a restaurant). That is how this site ended up where it is today. In order to address the needs of my clients I was forced to creatively solve problems. I needed to give my clients access to a premium content management system that would allow them to almost never call me again. (until their next site that is)
If you find yourself in the need to creatively solve a problem, then Congratulations! You are in a place wherein it matters if you achieve your goals. Remember to push yourself beyond what is comfortable, while still providing the best service possible to your clients. After all, when all is said and done there is no better marketing tool than a great referral!